In general, there is a greater concern with the selection of nutritionally more balanced and healthy options. Given the well-known health impact of excessive sugar consumption, many are looking for alternatives that can replace it.
Is it known that excessive sugar consumption has a direct impact on health but you know healthy alternatives to it?
There is a huge variety of substances with the ability to sweeten (sweeteners), in addition to sugar. What are the main differences?
Sweeteners can be found in the form of powder, liquid, lozenges, leaves, jellies, syrups or as an ingredient in countless food products (cookies, pastries, drinks, yogurts, etc.).
They can be classified as natural or artificial / synthetic and are subdivided into nutritious (with caloric value) or non-nutritive.
Artificial sweeteners are produced chemically and can be derived from natural sources such as plants. They stand out for their high sweetening power (20-800 times higher than sugar, depending on the substance), have a low energy value and do not favor the appearance of dental caries. The most common: acesulfame K, aspartame, cyclamate, saccharin and sucralose. Often present in products with no added sugar (soft drinks, bars, yogurts, jellies, desserts, sweets, lozenges, etc.). Not all are stable at high temperatures and may leave an intense, bitter or metallic aftertaste.
On the other hand, natural sweeteners are obtained from plants, fruits and vegetables. Some examples:
– Sugar, brown sugar and coconut sugar – of similar sweetening power and energy value (~ 4Kcal / g). Brown and coconut sugar, because they are not refined, preserve their content of minerals and vitamins. Coconut sugar also stands out for its lower glycemic index;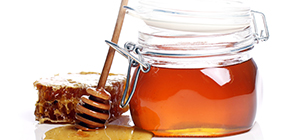 – Mel – valor energético ligeiramente inferior ao do açúcar (~3Kcal/g), apresentando um impacto similar a nível da glicemia. Maior riqueza em micronutrientes;
– Honey – energy value slightly lower than that of sugar (~ 3Kcal / g), with a similar impact in terms of blood glucose. Greater richness in micronutrients;
– Fructose – naturally present in fruits, corn and legumes. Despite having an energy value similar to that of table sugar, it has greater sweetening power, so it may be a more reduced calorie option. When consumed excessively, it can lead to changes in the level of triglycerides;
if the studies are not fully conclusive, a potential change in the balance of the intestinal microbiota is considered, with possible changes in glycemic control.
According to the recommendations of the World Health Organization, the daily intake of total simple sugars should not exceed 10% of the total calories ingested daily. This fraction includes added sugar, as well as sugars naturally present in honey, syrups, juices and fruit concentrates;
Thus, the use of sweeteners, regardless of origin / form, should always be moderate. Whenever possible, prioritize the sugar naturally present in foods and educate our taste buds in order to reduce the need for sweets.
Bibliographic references:
Food Composition Table V 4.1 – 2019, through http://portfir.insa.pt/
EFSA. Sugars and Sweeteners | EU Science Hub Disponível em: https://ec.europa.eu/jrc/en/health-knowledge-gateway/promotion-prevention/nutrition/sugars-sweeteners
Marta Mourão
Regional Nutrition Support – Holmes Place